Odd But True Pregnancy Test Questions & Answers
 Real answers from the queen of the pee stick!
 8-20-2016
My BFP is now 6 years, 5 months, 2 weeks & 4 days old.
1) Can you put too much pee on a pregnancy test, affecting the results?
Yes! If you over-pee on your test stick or strip it can cause a problem. It can wash out the dye and cause an unusual stain pattern on the test where the result line should be, or it can mess it up altogether and flush out the test line by diluting the dye, possibly even altering the control line as well. Make sure you follow the test directions to a tee. Since the amount of urine for every test can be different. Example 3 drops vs. 5 drops, 10 seconds in the urine stream vs. 5 seconds in the urine stream. Make sure you (even the pros like me) read every test's directions for this information prior to testing to ensure the correct result.
(NOTE: If you don't pee enough you may not get a correct result either.)
2) Can I use a pregnancy test twice? (Meaning, can I reuse an old test?)
OK, I'd be a total liar if I said I never did this. If say I ran out of tests and just had a real itch to pee on something, as many women trying to conceive will tell you that they do, it's a huge temptation. It may sound gross to some because, "Oh my God is she keeping these tests lying around? EWE!" (Just for a couple of days, and not all of them. Plus, they were hidden in the upper shelf of the vanity in my own bathroom. Don't judge 😳 .) But I know I am NOT alone in that. (You know who you are 😉 .)
Will peeing on a used test show a valid result for pregnancy? There may or may not be enough dye left in the test to turn an already used negative pregnancy test into a true positive. I tested this out many times, especially after a pregnancy had already been confirmed as a positive result. It made my light tests look darker the majority of the time, but there were a couple of times where it did not turn my negative tests into positive ones. Sometimes the experiment worked, sometimes the experiment failed.
While not pregnant, however, I was more likely to get something called an evaporation line. A 'ghost line' if you will, when re-using a negative test. This is not a true positive test, just a faint line that does NOT indicate pregnancy and cannot be relied upon. Usually they are grayer in color than a pink result. And many times the lines are thinner, but I did have times these faux lines were thicker and even appeared pink, so BE CAREFUL!.
In conclusion, while it is possible for the test you are re-peeing on to contain enough dye in it to show a true positive result for pregnancy, it cannot be relied upon and trusted. I understand the urge believe me, but don't bank on a used test giving you a positive result if you are pregnant, or a completely negative result if you are not. They are meant to be used only 1 time and thrown away. I recommend doing so to avoid this little situation.
3) Is 1st morning urine really the best? Is it possible I'd get a more accurate result testing later in the day or at night?
When you have yet to miss your period, most especially, most every test will say that you should use your 1st morning urine. WHY? Because HCG is said to be at it's peak in your highly concentrated 1st morning urine. If you hold your urine for 2-3 hours prior it most usually will be enough. However, in the morning you have quite a number of hours under your belt, and this is why the HCG is most concentrated, which would help yield a truer positive result. Most times this happens earlier than testing at other times in the day, however, there are some women who will swear that their 2nd morning urine works best, or later on in the day urine.  
Before your period is due most especially, whatever time of day you choose to test, make sure you hold your urine in for as long as possible first. And make sure your fluid intake is low to nil, as this will dilute your urine possibly causing a false negative result. The further along you get, like the day after your period is due and beyond, the HCG is increasing, often doubling (or close) every 48 hours, so it gets to a point where there are high enough levels of HCG in your urine to show a positive result at any time of the day or night. So maybe those night testers are just a little further along, even if only by 12 hours. Who knows?
HCG is constantly building up, so for early testers I agree that 1st morning urine is best, as I have had negative results, namely with my 2nd son, testing too soon in the later day. So if you wish to test early and don't want to wonder or waste your money, do go with that recommendation.
(For the women who test with their second morning urine and swear by it, drop a comment in the box below, and let us know why you believe that this method works for you. I have heard that story a couple of times before. I am curious.)
4) Can a pregnancy test turn positive after the limit is up? And can I trust a seemingly positive result after the time limit is up?
Another thing I am super guilty of. Pulling those tests out of the trash and over-analyzing them. Often over and over again. This is another big no-no that we know is wrong, but it feels oh so right at the time.
Can you trust a result after the time limit has passed, especially by more than a couple of minutes? No. HOWEVER, that being said, when I was 19 and my mom forced me to pee on a test in front of her, that test did not turn positive even having had a planned parenthood test done the day prior that was positive. Even that PP test they told me it was negative at 1st and I was relieved, however, then a light positive showed up while they were counseling me about birth control. Low and behold she left to throw it away and came back and said, "The line is faint, but it's there." You are newly pregnant. I'm certain it was far over the time limit, so I was baffled.
The test with my mom at 1st did not turn positive in the time limit and she threw it away. I fished it out of the trash later, and it had a definite line. I WAS pregnant. But this is not recommended because there is a possibility of a faint line showing up afterwards. (An evaporation line) that can fool those who are really wanting a child. I have seen them at least a hundred times before AFTER the time limit.
So, while it is true that if HCG levels are still quite low a positive can show up after the time limit, but it can also be very inaccurate, and not a practice I'd recommend, despite my own experience, as I have been on both sides of that coin. What I stated above, and also a time that I thought whole-heartedly that after I pulled the test out of the trash maybe an hour later, that I really was finally pregnant, but I wasn't. Save yourself the possible heartbreak or heart attack and just wait another 24 hours to test again.
5) Can I take my pregnancy test out of the casing to check for a line?
Again, I'm SOO guilty of this. You want to see a line so badly that you crack open the shell of the test and even hold it up to the light if you must. That can be bad practice because, especially by the sunlight or another harsh light source, you may see what is called an indentation line in the test where the control line is. This can confuse people into thinking, 'hey a line is a line, I might just be pregnant', when really it isn't anything more than a dent. (Dang indentations  :-P.)
The safest way to test is by keeping the test in one piece and reading the results this way only. If you are fishing for a line that much, and yes you can develop line-o-vision (I have it), it is surely not a good habit to develop and succumb to. Waiting another 24 hours should make the answer clearer to you. Pregnancy tests weren't made to be dissected and then read, so do things right, and you can trust your results much more. I'm such a hypocrite..ha, ha. But it really is true.
*********************************************************
A negative test result doesn't always mean you aren't pregnant, so don't lose faith. It may still be too early, as every woman and each and every pregnancy is completely different. Implantation dates do vary, and tests can and do turn positive at different times from one pregnancy to another.
I tested after my period was due with my 1st two kids. (Still faint lines.) I tested positive with a super faint line at 11 days past ovulation (3 days early) with my 3rd child. (That started out as a twin pregnancy.) And I tested positive at only 9 days post ovulation & trigger shot (5 days early) with the twins. Not only implantation dates vary, but also some pregnancy tests are more sensitive to the HCG hormone than others are. There are several factors at play here.
(To read about the most sensitive pregnancy tests, click the pink link.)
Please do try, hard as it might be, to play by the rules to avoid either fear or potential disappointment, depending on your particular case. I'd say make sure to not test earlier than when your period is due, but I'd be a HUGE hypocrite if I did. If you are trying to get pregnant I know how impossibly hard that is to do. 
I hope that these pregnancy test Q&A's help somebody out there in cyber space. I will answer more HPT related questions shortly. 
Stay tuned & good luck testing!
Valid Reasons To Want Twins And Invalid Reasons To Try To Have Multiples
8-7-2016
My sweeties are 6 years, 5 months & 5 days old. 
OK, so I have talked about people who actually wish to try for multiples before, and also ways to increase a person's chances of having multiples, although I in NO way condone it, except for what you will read below.
I want to quickly discuss valid and invalid reasons to want more than one baby in your belly at one time.
Invalid reasons to want twins
1) They are so cute. You can dress them alike too, OMG! 
Not a valid reason AT ALL!!!! (An immature one at best.)
2) Getting it 'over with', unless you have infertility issues, see below. 
Multiples create some very real, potentially life-threatening risks for the babies, and in some areas, even for mom. The risks for everything goes up with multiples. Pre-term labor sky rockets, miscarriages increase, still births happen more frequently as does cerebral palsy and other complications for the babies themselves. High blood pressure and other complications for mom, gestational diabetes. I had this complication just due to the fact that I was carrying twins and nothing else. I had zero other risk factors, and had 3 previous singletons without it also. C-sections are far more popular for twin moms-to-be than for singleton moms, though it is not assured, as I did have mine naturally, however, ALL risks go up for complications with multiples, which is important to remember before trying to have twins on purpose. And it definitely doesn't feel as comfortable having 2 babies inside of your body, as well I know from lots of experience with 1 vs. 2.
3) It's easier to have two at one time instead of two separately.
The jury will forever be out on this one, as I think it completely depends on the children themselves. I had one child that was like triplets I would say, even though I had no obvious experience with triplets. She was always a handful. I also had almost Irish twins that were boys and were easier, soooo… this subject will always be up for debate, but by no means is having twins 'easy'. As any mom of multiples will say, there are some perks of having them together and there are some definite, undeniable cons and difficulties. Nothing is ever 'easy' with kids, I guess you could say. Read about Irish twins vs. twins by clicking the pink link to read much more on this subject.
4) They have a best friend for life.
Not always, and definitely not for a LONG time. My twins fought for blood and still do sometimes. They don't come out of the womb hugging onto one another. There will be fighting and sibling rivalry down the pipeline that your fantasies about twins do not include. Be forewarned!
5) They have someone there to entertain them.
As a mom to more than one child, and especially two little ones at once, you have to TOTALLY divide yourself up like never before, because even if your twins play nice some of the time, again, fighting and rivalry is always going on. You have got to make sure each twin gets entertained and is bonding like a singleton by you and to you. It's a lot of juggling. They don't automatically entertain each other, nor should you have twins so you don't have to be the one to be active in their lives, as far a entertaining goes. They both need you like two separate singleton children, and it is hard to spread yourself around so much to make sure everybody gets the validation and attention they need FROM YOU, not solely from one another. If you are using this as a reason.. don't have children at all!
6) I only want to be pregnant one time.
I love pregnancy, but I know that not everybody does, so I can kind of empathize there. However, again, the pregnancy is automatically considered high-risk with twins from the get-go. And to be honest, I didn't get to enjoy the pregnancy like I did with my single babies, because I was always worried about something happening. I was much more relaxed and would always prefer two pregnancies to carrying twins because of the risks and worries, even though I have no regrets, we certainly were NOT at all trying to have twins. In fact, quite the opposite. God said we were meant for it, so it somehow happened, although we were told we only had one viable egg. HA! Doctors sure don't know everything!
7) Two babies will definitely make my partner want to stick around, marry me, not cheat on me, etc. etc.
That is pretty self-explanatory. I don't think most people reading this are thinking about this one, but somebody out there, one out of 300,000 maybe, might just be. NOPE! One baby is hard on a relationship, even though it is a beautiful, amazing thing, it is far from easy. With multiples, the divorce rate skyrockets, and it is more than twice as hard as 1 baby on even strong and happy relationships. A relationship needs to be super solid beforehand. If it isn't, a guy would leave quicker with twins than with one baby. Word to the unwise- if he's not into you.. DON'T GET PREGNANT PERIOD!
Valid reasons to want to twins
This will be short.
1) You have battled infertility, have paid to go through interventions to have a baby, and this might be or IS your last chance to get pregnant and carry a baby, and you really wish to have more than one child.
Whelp, that is all I could think of. I think if God gives your family twins, if it is meant to be, it is meant to be. I don't think anybody should take drugs they do not need to increase their chances. Natural ways.. whatever, but I would never have done it on purpose, and again, I don't say DO IT either. It is just VERY important for these people to know about the risks and the truths about raising twins. It is a  blessing for those who are chosen for the job. I love my girls to pieces. But it is damn hard, damn expensive, damn hard on your body, damn hard on your marriage. It's nothing to step into lightly. Every child is a blessing. But they are all hard work.
Adorable? Yes! Bribed into taking this picture? YES!
(I just want to tell it like it is.)
Most of the people I have met that tell me that they always wanted twins have also told me that they quickly changed their minds after having only one baby. I can't tell you how many people have said that to me. (Over 100 in the past 6+ years I would say. We get out A LOT 😛 !)
If anybody wants to add to this list do feel free to, or comment below. 
Some Hope For Those Fighting To Keep Their Twins Together In School (UPDATE) 
7-27-2016
My adorable almost 1st graders are 6 years, 4 months, 3 weeks & 4 days old.
I wrote a post about wanting to keep my girls together in 1st grade, and my request got denied by the principal, which was very upsetting to me. I happen to have a lady across the street who works for the city in which we live in. She also has a daughter who has twins, so she was very saddened and angry to hear this. Going to her was all I could think of doing. She said she will talk to someone she knows on the actual school board, and if she gets nowhere with him, she will speak with the superintendent of schools, which she is good friends with. They go out to dinner and everything. He was the one I was thinking about writing to, but she obviously has much more of a relationship, but do this if you need to, please!
So, yesterday I saw her, and she said that she hasn't forgotten about this at all, she just hasn't run into the guy yet. The 1st step. BUT she did actually talk to someone very powerful, the city council woman who was outraged to hear about this and said to continue to fight and to go to her if our plight fails, as she is a mother of twins and assured me there are no laws in-state or any rules in a school handbook about twins needing to be separated in school. NADA! And she also said that the principal is NOT the one who makes this decision and that we do have rights as parents, even though here in NY we do not have any law about this in place, just a bill that has not been passed yet. She said if I wanted them in school together till high school, that is just fine, even though that wasn't even what I was looking for. Just one more year, but that is good to know. She agreed that twins have different emotional needs and they do tend to mature slower, which is what I have been saying to my husband. I see that all of the time, as I have had other children before my twins. I know this to be true.
I think the actual school principal may dislike us after bucking her and going to the top, but our wish most definitely looks like it will come true, as she seemed very optimistic about it. I am going to take the letter I wrote to the principal and give it to my neighbor to give out for us. The actual city council woman told her if she gets nowhere with the others to come back to her. Finally a piece of good luck. Too bad she isn't good friends with the principal. She actually despises her. She's very 'dry', she describes her as. However, this decision should not at all be in the principal's hands, and I wanted to share that information to others who might be in the same predicament right now.
Compose your letter. Make your convincing argument, and if the principal is giving you the no-go, do NOT be afraid to rock the boat, fight and go above her or him, and send your letter to the superintendent of schools and even the board of education. Send it to anybody with pull because obviously the principal should have zero say in this matter. You can also check twinslaw.com and see if your state already has a parental choice for the placement of twin's law already in effect. You can also get a letter from your twin's doctor, a psychologist, anything that can help your cause. Don't be a victim. Every set of twins is different. Some benefit from early separation and others do not. Don't let them fool you into thinking that it is ALWAYS best to separate when it is not. I even talked to a psychologist about this, and she agreed.
I will update again when we know more.
FIGHT TO POWER!!!!! YOU DO HAVE A SAY!
Mom's Experiment With Her Twin Children Teaches All Moms An Important Lesson
7-12-2016
My twin loves are 6 years, 4 months, 1 week & 3 days old.
One mom of young twin boys, Brandie Johnson, decided to watch her twins from behind while they played, to see how many times they would look back at her while she was not in view over the course of an hour. Obviously, it is normal for them to look for her at some point in time, even while entertained, but the point of her little experiment was to see  how many times her children might be needing her, or simply her attention.
She found out that it was a total of 28 times that they looked back for her. Why is this so important? Because, while she thought her boys were entertained, playing with one another, completely engrossed, she would be on her smartphone entertaining herself, thinking they did not need her during times of play. This gave her the realization that this wasn't just happening during her experiment, but all of the time. It was 28 times they looked for her, and she was not available to them. It made her really think about her smartphone usage during these times in which she thought it was safe to do so. This test showed her that all of this needed to change.
I happen to always think like this without the experiment. I do my video editing, blog writing, my small amount of Facebook posting, while my children are still asleep, or this past year, at school. I ALWAYS felt guilty doing anything while they were awake and around, even though it wouldn't be playing around stuff, but actually trying to make some money for our household, nevertheless, it haunted me too much. During their waking hours, I felt too much like I was missing something, even if for just a couple of hours in the mornings. So when my twins were only babies themselves I stopped and got up extra early. 4 AM is not unusual for me.
I don't have a pic of me on the PC because nobody is awake or around to take one for me 😆 . 
I'm not the mom who is texting all day long, or EVER playing online games. I simply don't do those things. I text if I need to quickly, but my attention stays on the kids, as they grow up SO fast. I am EXTREMELY hand's on. As a mom who lost a child and has one grown and gone off on his own, I think that really makes you realize how precious time is and how fast it goes by. It also makes you realize how much you can miss out on. Plus, I didn't get much parental attention myself and suffered greatly for it. That also affects the way I think and the way I parent.
I know some moms have to work outside of the home (or inside) to make end's meet. This is certainly not a dis to you. It is just an awakening of how important it is during your free time outside of work to spend with your children, and less on social media, etc. etc. I mean during naps and stuff fine, but though I know even mom's need a break, it's just such a short time. They soon will be grown and gone. I am already seeing things change with my almost 11 year old daughter. She doesn't wish to be with us all of the time, is now having play dates and such, which is normal. But they begin to want to do more of their own thing, and that only gets progressively more so over time. I have seen that, and that too opens up my eyes.
I enjoy everything I can. In fact, Tuesdays used to be me and hub's 'date day'. We changed it from date night while they were in school so we could do it while they were not around and be home an hour at most after they got home. Today should be it, and already I am like, "I can't do it." I NEED time with my partner. We all do. And we do make that time every week. But I am seeing the sunshine and I know they have gymnastics later for two hours, and I will push off our plans until their uncle takes them to gym, and we will bring them to the pool or something for a few hours 1st. They enjoy that, and I enjoy watching it and taking part. This is just how I am. I don't want to think about my kids sitting in the house on a beautiful day without us, doing nothing when they could be. I know I am on the extreme end of things, but you catch my drift.
I have friends, one in particular that stands out from the rest, that sit on their phones playing games, ignoring not just the kids but ME, all day long! I can spend the whole day talking to somebody who looks up at me once per hour if I am lucky. I can only imagine when they are alone with their children, how sad that must be for them. Even I take insult to it sometimes. That practice I do frown upon totally, but I have seen it. It is sad. The kids DO suffer. I am not saying don't answer a text, but to play Internet games and chat all day without watching your child play or listening to a friend even, like my example.. it's just such a waste of time, and time can never be turned back. It only marches forward. Enjoy your children while you can, whenever you can.
OK, so this woman Brandie now has taken a step back and is changing her ways because of the experiment she conducted. This is her own words: 
"28 times my angels would have wondered if the World Wide Web was more important than them," Johnson wrote on her Facebook. "28 times my boys would have not received the attention most adults are searching for. 28 times my loves would have questioned if they were alone emotionally. 28 times my kids would have been reassured that who you are online is what really matters."
"In a world where quality time with loved ones is being replaced by isolation and text messages from the other room, I beg you to be different. Please put down your technology and spend some time with your family & loved ones. The next generation of children is counting on us to teach them how to be adults, don't be too busy on social media, you never know who is watching and what message you are sending."
Eye-opening, isn't it? I just wanted to share! I hope you are having a wonderful week my friends!
How To Have A Safe And Fun 4th Of July Holiday! 
7-3-2016
 My twin beauties are 6 years, 4 months & 1 day old.
 Independence day, more commonly known to Americans as the 4th of July, is a big deal for us, and is quickly approaching.  We simply adore watching fireworks boom into the air, putting on a show so pleasing to the eye that you never want it to end. 
Now that is where the moms and dads of all children are involved in this to.  Safety is our biggest concern on this day, so we need to educate our children so everybody stays safe and sound on this very fun holiday.
 My husband's best friend growing up had a good portion of his hand blown off by a firecracker that he himself wasn't even setting off.  We have all heard the stories of 'things gone wrong' when shooting a firecracker off by yourself, but this wasn't even him and he still paid a heavy price.
Tips on keeping your kids safe on the 4th
1)  Encourage your kids, (for those who are older and want to be with friends over you, and you allow it), tell them to hang out with groups of friends only.  Ask if anyone has anything with them to set off, and highly discourage them from participating.  If you feel it's all right to watch their friends, encourage them to stand back at a safe distance to view, not participate. 
Tell them to forget about any peer pressure if it exists in this, because children are not firework experts.  They do NOT know the great dangers without being told.  They need to hear about them through you!  All they see is FUN, FUN, FUN!  Feel free to share the story above just make sure it's KNOWN.
Should a dad be there, and has been doing this for countless years, then retreat, and enjoy the show.  I grew up and my best friend's dad used to set off fireworks our whole childhood on the beach.  I didn't ever help set one off out of fear. 
The closest I have come to fireworks outside of watching them are sparklers, and nowadays even those are hard to get, and have been linked to burns in children to.  They seemed so innocent, but they're not.  They have really cracked down on what people CAN get now,  which is great for our kids, but they still can get their hands on the little stuff that is still very dangerous.
2)  Staying in groups is best because we all know that these events don't take place until after dark which is quite late in the Summer time.   If you are walking around looking for people setting off fireworks with your kids, or they are with friends, make sure they know the street is NOT the place to walk, no matter how many friends are there and whatever they are doing. 
USE THE SIDEWALKS!  Firecrackers aren't the only danger in the night, so is traffic and not just on main road, but also on side streets as well.  Many people drink on the 4th of July, and that can lead to erratic driving, and many accidents, so if you are a mom driving take extreme care.  And also make your children aware of this so they stay on the side walks, and if you can get them to wear a reflector for safety..even better!
*I just got home from such an event.  A big one hosted by Grucci. Trust me…drunks everywhere, chaos on the roads, ambulances and fire trucks galore.  The fun can obviously bring with it calamity.*
3)  Last thing if you are going to visit a show inside of a large crowded area.  Keep your eye on all little ones.  It's easy to get lost in a crowd of thousands, and very scary for you both.  Know what they are wearing, dress them bright and uniquely, and if possible set up a meeting point 'just in case'.  I gave my big kids, (as the twins stayed home), glow necklaces and sticks to be able to spot them, though they were very good at staying close.
Little kids can wander and if you have more then 1, especially more then 2, it's easy for someone to leave your field of view and skate off.  In the dark it can happen in a second!  Protect you little ones, and enjoy the evening!
July 4th is a day to celebrate our country.  To honor it, and show our American pride and spirit, but it also can be a dangerous occasion.  Follow these tips, talk to your kids, given curfews if they are old enough to be out, or plan safe family events so you are all together.  BBQS make a great, safe alternative.
Happy birthday to the United States of America!
 See you soon & enjoy your holiday 😀 .
A Parent's Guide To Saving Money Online With PromoPro
6-29-2016
When you have kids, money can be pretty darn tight. You may feel at times that there are no ways around this, but in one really easy way there is. You can save money by shopping online and using coupon codes for discounts on most anything and everything that you buy on the web. I never make a purchase online without checking for these codes, and I have saved thousands of dollars over the years by doing this. Don't expect that all online steals and deals will be announced on the webstore's actual homepage, because many times they are not. Sometimes you have to do a quick search, and using Promopro is the only way to go when you are looking to save money at your favorite online retailers, and if you know what you are doing the savings can add up for you too! Here are just a couple of examples. 
As some of you may know, I am REALLY big on taking pictures. Most parents are the same way. I have them printed out through Walmart.com all of the time. I also always make my greeting cards through them, and I utilize their reliable 1 hour service regularly. I also like to give photo gifts from Walmart too. They are my most favorite store to place my photo orders with. I love that you can pick up in-store or have your items mailed to you. They have the greatest prices too. You can also find some great Walmart photo coupons to save on your purchase.
Right now you can save 30% on photo canvas art. I have given these as gifts before, and they are always a crowd pleaser. I have a couple hanging on my own walls too. You can't beat their photo printing prices, and I am always happy with their quality. So, if you are a mom or dad with camera always in hand, there are definitely some great deals here for you, so check them all out.
*****************************************
Are you an animal lover? I am! Most families have at least one pet in their home. We have four dogs and are forever in need of durable chew toys and quality bones for our heavy biting Siberian Huskies, however, pet stores tend to be VERY expensive. Much more so than some online ones. My favorite webstore for our precious pups is definitely Chewy.com. Their prices fit every budget, and you are assured to receive top quality merchandise.
I heard about Chewy through a stranger I struck up a conversation with while shopping at a local pet store chain. We both were saying how expensive things were, and she clued me in to Chewy.com. Get your Chewy promo code at the provided link, and put more cash back into your pockets. (You can save 20% right now on your entire order! That is on top of their already rock bottom prices.)
Always remember that you don't have to sacrifice quality when saving for your children or for man's best friend.
There are thousands of great deals out there, you just have to seek and ye shall find. It only takes a few seconds of your time, but can make a big price difference. Start saving money online today.
You can visit Promopro to check out THOUSANDS of online stores and savings on each and every one, including Walmart, Chewy and so many more. What are you waiting for?
Happy shopping!
15 Facts About Twins
6-24-16
My newly graduated from kindergarten twincesses are 6 years, 3 months, 3 weeks & 1 day old.
1. The overall U.S. twin birth rate increased 76% from 18.9 in 1980 to 33.2 per 1,000 births in 2009. (The most recent data available.)
2. 22% of all twins are left-handed, while only 10% of the singleton population are left-handed.
3. Identical twins share 100% DNA and are conceived from a single fertilized egg that has split. Fraternal twins share 50% DNA, and are from two separate, fertilized eggs.
4.  Identical twins share all of their DNA, however, they do not share fingerprints
5.  Over 50% of twins are born prematurely.. (before 37 weeks).
6. Identical twins do not make you more prone to having a second set of twins as it's simply an uncommon occurrence of nature, while bearing fraternal twins makes you 3-4 times more likely to conceive a second set.. (if conceived naturally).
7. Women over the age of 30 are more likely to conceive twins and that number continues to rise with advanced maternal age. For ages 35-39 twin conceptions went up 100% from 1980. There's an over 200% rise in the 40 and up age group!
8.  1 in 250 pregnancies result in an identical twin birth.
9. Due to the increase in fertility treatments twin birth rates have risen to as high as 1 in 30 😯 . By looking around I would certainly say that is true.
10. Fraternal twins (females) are at least twice as likely to have a set of fraternal twins of their own someday.
11.  40% of all twins invent their own special language between one another. I wonder if this 40% number covers identical twins as my fraternal set does not seem to have this language.
12.  Heavier women are more likely to get pregnant with multiples.
13.  The average birth-weight for twins is 5.5 lbs.
14. Only fraternal twinning runs in families. Though some would like to disagree, having identical twins on the family tree does not mean you are more likely to bear twins yourself. There's also no evidence to support the claim that twinning skips a generation. That's a myth.
(Hyper-ovulation can run in families, hence causing twin conceptions.)
15. The average time between the delivery of the 1st and 2nd twin is 17 minutes. (If born vaginally, of course.)
Just so you know 😛 .
 And we're still on the rise!
Have a great weekend to come!
50 Amazing Father's Day Jokes For That Special Guy In Your Life
6-18-2016
If there's one thing we love about our dads, it's their ability to make us laugh. Clever comebacks, silly answers to questions and one liners never fail when having a conversation with dad.  Father's Day is coming up and what better way to celebrate than sharing some giggles together. 
Shari's Berries

 came up with 50 Father's Day jokes that will make the whole family smile. It includes funny things dads say, dad wisdom and conversations with dad. Perhaps if you read these ahead of time you can even outsmart him!
Whenever you ask your dad a question, it's pretty much guaranteed that you will get a clever response back.
In order to celebrate dads this year, we gathered 50 father's day jokes – you know, things dads say, silly comebacks from fathers—because it's not a funny father's day unless jokes are involved.
Q: What do you call cheese that isn't yours?
A: Nacho cheese!
I asked my dad to help me with a math problem. He said: "Don't worry; this is a piece of cake." I said: "No, it's a math problem."
Teacher (on phone): You say Michael has a cold and can't come to school today? To whom am I speaking?
Voice: This is my father.
Being a great father is like shaving. No matter how good you shaved today, you have to do it again tomorrow.
Dad: You'll never amount to anything because you procrastinate.
Son: Oh yeah? Just you wait!
There's a big difference between bad jokes and dad jokes. And that difference is the first letter.
Q: What lies at the bottom of the ocean and twitches
A: A nervous wreck
Dad Wisdom: I know what I'm getting for Father's Day. Last night my daughter asked me what size aftershave I wear.
Dad: Hi, Sweetie, how was school today?
Daughter: You can read all about it on my Facebook, Dad!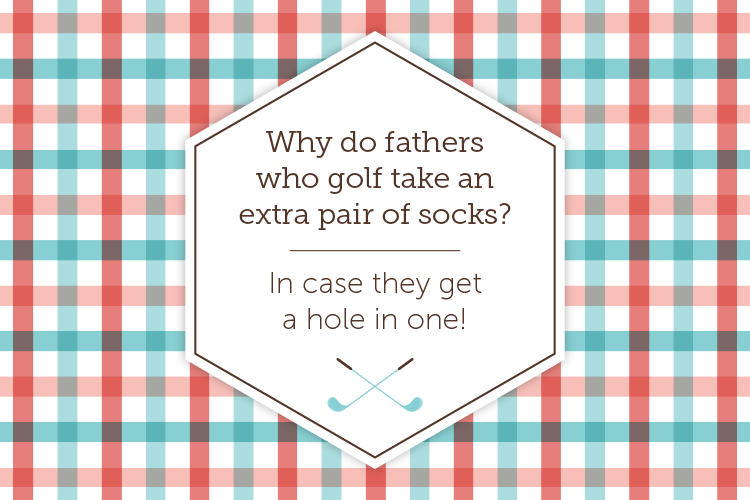 Dear Dad, $chool i$ really great. I am making lot$ of friend$ and $tudying very hard. With all my $tuff, I $imply can't think of anything I need, $o if you would like, you can ju$t $end me a card, a$ I would love to hear from you. Love, Your $on
Dear Son, I kNOw that astroNOmy, ecoNOmics, and oceaNOgraphy are eNOugh to keep even an hoNOr student busy. Do NOt forget that the pursuit of kNOwledge is a NOble task, and you can never study eNOugh. Love, Dad
(LOL. The one above one reminds me of my son. I love it!)
Dad Wisdom: Why, in a country of free speech, are there phone bills?
Science teacher: When is the boiling point reached?
Science student: When my father sees my report card!
Dad: I wouldn't buy anything with velcro, it's a total rip-off.
Dad: Let me see your report card.
Son: I don't have it.
Dad: Why not?
Son: My friend just borrowed it. He wants to scare his parents.
"While having their evening dinner together, a little girl looked up at her father and asked, "Daddy, you're the boss in our family, right?" The father was very pleased to hear it and confidently replied, "Yes, my little princess." The girl then continued, "That's because mommy put you in charge, right?"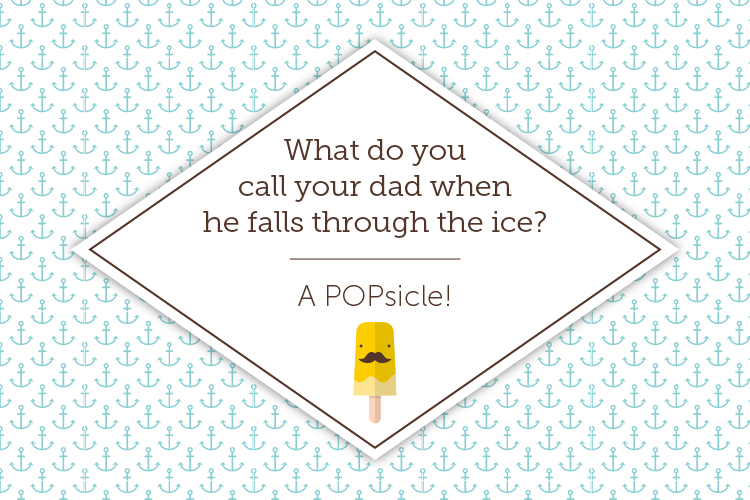 I asked my dad for his best dad joke and he said, "You."
Dad: How old is your father?
Child: As old as me.
Dad: How it is that possible?
Child: He became a father only when I was born.
My son wants 50% of my Father's Day gifts. He says if it weren't for him, I wouldn't even be a father.
Son: For $20, I'll be good.
Dad: Oh, yeah? When I was your age, I was good for nothing.
Dad Wisdom: I had a dream about a muffler last night … I woke up exhausted!
Son: Dad, I'm hungry.
Dad: Hello, Hungry, I'm Dad.
Son: Dad, I'm serious.
Dad: I thought you were Hungry?
You can tell it's almost Father's Day. The kids suddenly want to stop at all the garage sales.
Son: Dad, can you put my shoes on?
Dad: I don't think they'll fit me.
I'm laying in bed reading a book when my dad walks in with a tape measure. About five feet away from me he stops and starts pushing the tape out to me. It gets closer and closer until it eventually smushes against my cheek. I ask him, "What are you doing?" He responds, "I'm measuring your patience."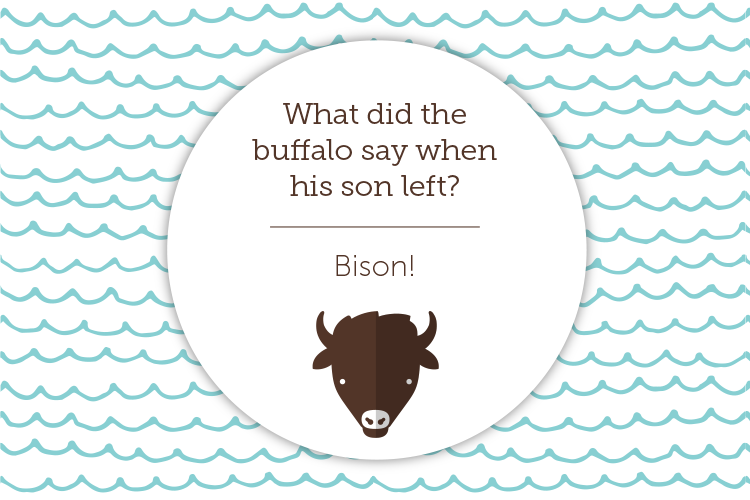 Every year, after it turns 12:00 AM on January 1st, my dad makes the same exact jokes. "Where's your mother, I haven't seen her ALL YEAR!" "Man, I'm so hungry, I haven't eaten ALL YEAR!!" "WOW, we've been watching this TV ALL YEAR!!"
Q: What did one ocean say to the shore?
A: Nothing. It just waved.
Happy Father's Day to a dad that was smart enough to teach his kid to mow the lawn so he wouldn't have to.
Q: What do you call a boomerang that doesn't come back?
A: A stick.
My dad used to carry around a frayed knot in his pocket just an old tied up piece of rope. Then any time someone asked him something and the answer was, "no", he would just pull out the frayed knot and say, "'fraid not!" and he would burst out laughing. Nobody else thought it was funny.
Q: Why did the scarecrow win an award?
A: Because he was outstanding in his field!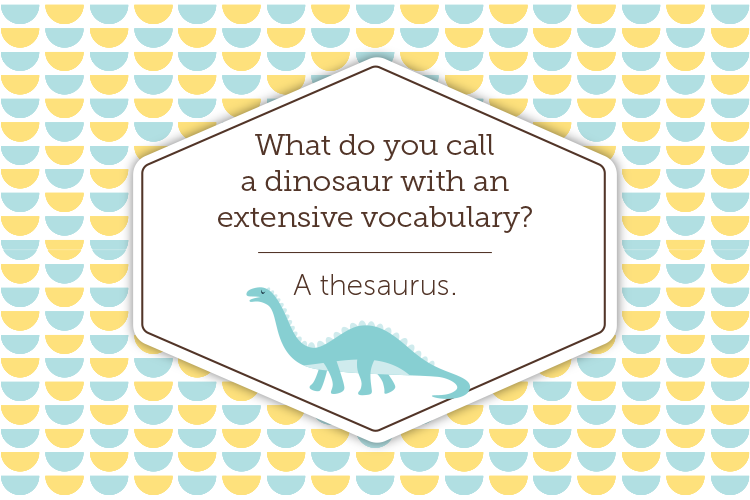 Dad Wisdom: I didn't like my beard at first. Then it grew on me.
Q: Did you get a haircut?
A: No, I got them all cut.
I never wanted to believe that my dad was stealing from his job as a road worker. But when I got home, all the signs were there.
Q: What's the opposite of irony?
A: Wrinkly.
Two hydrogen atoms walk into a bar. One says, I think I've lost an electron. The other says, Are you sure? The first replies, Yes, I'm positive.
Son: I'll call you later.
Dad: Don't call me Later, call me Dad.
Dad: What is the lunchmeat that tastes like hot dogs?
Son: Bologna?
Dad: This isn't bologna, son, but a serious question.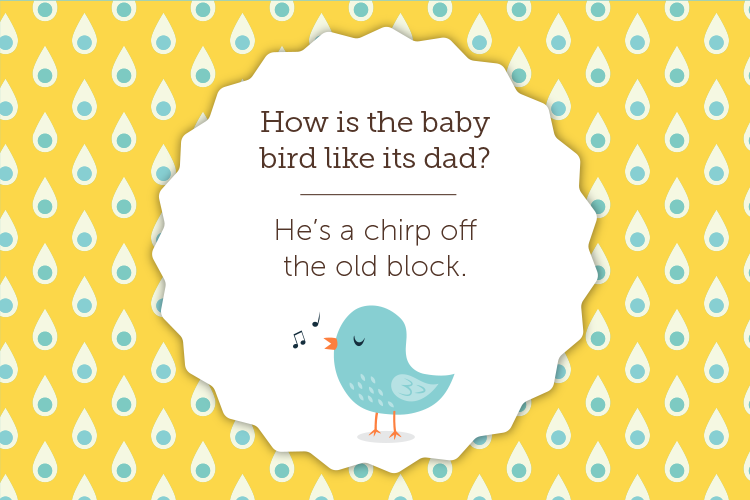 Q: What did the pirate say on his 80th birthday?
A: Aye Matey!
Dad Wisdom: Our wedding was so beautiful, even the cake was in tiers.
Son: Hey, Dad, whats this movie about?
Dad: It's about two hours.
Dad Wisdom: I gave all my dead batteries away today… free of charge.
Son: Can I watch the TV?
Dad: Yes, but don't turn it on.
Q: How do you take you coffee?
A: Seriously, very seriously.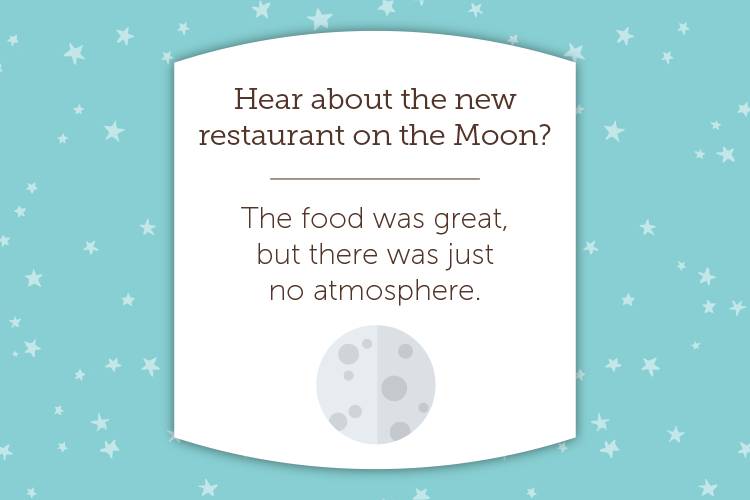 Q: Why can't you hear a pterodactyl going to the bathroom?
A: Because the "p" is silent.
Did you know that Father's Day was first celebrated on June 19, 1910, while Mother's Day was first celebrated in 1908? Sonora Smart Dodd wanted a day to celebrate her father, a civil war veteran and single parent, who raised six children all by himself.
As you celebrate your dad this year, whether your dad's jokes are funny or not, just laugh as loud as you can. They will appreciate it. And because fathers are not always easy to shop for, check out our Father's Day best sellers. You can never go wrong with bourbon and BBQ.
Article provided by Shari's Berries. Thanks for the laughs today and every Father's Day to come!
 The Horror Of The Orlando Shootings & What It Can Teach Us As Parents
6-15-2016
My little loves are 6 years, 3 months, 1 week & 6 days old.
My heart is so sad that there is still so much hate and horror in this world that some madman could take so many innocent lives without care. Gay, straight, black, white, every person is a human being, and after all of the progress we have made over the years there is still such bigotry living among us. It could be your neighbor, the person you pass on the street. They don't have signs attached to them, but they are out there, and what happened in an Orlando night club only days ago is proof of this, and it is so, so sad. Behind each life taken there is a family who loves them. There was a future to shine brightly, that has now been eternally extinguished. 49 innocent people ripped away from this world, and for what? What was gained from this? All that was gained here was loss. There are no happy endings now. All there is a hideous, tragic and abrupt one. 
If my son came out and told me he was gay, and this is something I have thought about years ago, I would love him no less. Same goes for my daughters when they get older, and I really hope they would never fear telling me, and would come to me about this. As long as one way or another I got a grand kid or two, I always say, "WHO CARES ABOUT SEXUAL ORIENTATION?" It does not define a person. An individual's heart, mind, soul, that is what defines a person. I teach my kids this, and  to never hate. Be friends with everybody, treat people with the same respect you would like to be treated with, and show kindness and acceptance to everybody that you meet.
Now back in my day, and especially the generation before, this was such a hush-hush topic, and bigotry against races and sexes was not hidden, but made known. People weren't open about their sexuality. They felt ashamed and fearful to tell their friends and family know out of fear of being shunned. While that still exists, we see transgenders, homosexuals and lesbians, people from all walks of life now on You Tube freely expressing themselves, sharing their stories. Gay people coming out and showing people who feel like they are the only one and afraid to come out that, 'hey, you are by far not the only one." I think it is in a word WONDERFUL! These people are helping to take stigmas away from such words as lesbian and homosexual. In turn, some young people who may have been so down they even contemplated suicide a chance to feel embraced instead of shunned, and lives are being saved from these people sharing their lives online, and I think that is super. Everybody is different in some way, shape or form. As a world we have to accept people for what they are if we want them to accept us back, and that is how it should be. But so much hate apparently still remains, and I cry for Orlando.
Now I grew up in a Caucasian neighborhood, went to a 99.999% Caucasian private school, and yet I never possessed an ounce of racism. I did know people who did not feel the same as me, but I believed then and to this day that we are all the same. I always teach my children about equality among ALL people. Now if I came out as gay or dated say an African American man do I think my parents would have been happy? No, not at all. I can't even tell you if they would have accepted it or me at all. I was thrown away for not aborting their grand child, so I would not be surprised. But my son prefers African American girls, and I have zero problem with this. In this day and age, who shouldn't feel this way? As long as somebody treats you good, THAT is what matters most, and that you are happy with them. I don't care if he went out with someone who was purple, just be happy! You only live once, and I had so much misery in life and relationships, that I know how hard love is to find, and if you find it, don't let it go. 
The sad reality of our nation. Hate lives on.
But getting back to Orlando. I woke up at 2 AM, and on the news they were showing the victim's photos on the screen. Behind every smile I was seeing there was a life lost and a family in mourning. It made it so REAL. It felt like a bad dream when I first heard of the events of the eve of the massacre, but to see the faces behind it, really just got me very emotional. I honestly had to change the channel, much like seeing the faces of the 9/11 terror attacks. It tears me up inside. I didn't fall back asleep until 6 AM and woke an hour later. My heart is broken. These horrible incidents just always make me wonder, what is next? So much hate lives among us that you know this isn't the end of it. I wish there was something that I could do personally to help. This makes me feel so helpless. I guess all that we can do as parents is to teach our children values, morals and to love all people, and keep the lines of communication open, so they always feel like they can voice themselves without fear over ANY topic of conversation. Let them know about equality among all people, regardless of anything. Teach them to love and to never hate.
Now the gunman they say was a regular at the club Pulse, and perhaps was gay himself, though his father denies that. Other reports say that seeing two men kissing sent him over the edge and disgusted him. Maybe he was confused about his own sexuality or was just a bigot himself. Maybe as his wife says, he was mentally ill and a ticking time bomb. Maybe he was a radical, a terrorist, or simply an insane racist. Maybe he was a combo platter of a few of these things. Despite the motive, it was fueled by hate, one way or the other, and it's just such a gutwrenching situation. The motive behind the mass shooting will be no comfort to the 49 families burying their loved ones this week, and for the many more who were wounded and have to live with these scars for life. Orlando will never be the same.
My heart goes out to the victims and their families. They are all in the arms of the angels now. Rest in Peace my brothers and sisters. You will never be forgotten. Omar Mateen may you eternally burn in hell!
MURDERER!!
"Teach your children to love all people. To not hold hatred inside of their hearts.. not ever. The world needs unity. We should never divide ourselves, as we are all different in different ways, and we are all beautiful in the sight of the Lord." – Mama P.
Easy Ways To Get Your Body Summer Ready Without Any Drastic Measures 
6-10-2016
My little bundles of love are 6 years, 3 months, 1 week & 1 day old.
Yup, it's that time of year again. The sun is shining, the temperatures are warming up, and the kids will be out of school in only a couple weeks' time. How can we prepare ourselves for the beach weather soon coming our way?
#1) First off, have confidence ALWAYS, and be more forgiving of yourself.
NOONE IS FLAWLESS!
We are our own worst enemies. We can pick out and magnify our flaws like nobody else can (and like nobody else does.) Remember that the world is not viewing you as harshly as you are viewing yourself. So, while we are always looking to improve ourselves, both inside and out, remember that you are ALWAYS beautiful, and that nobody in this world is EVER perfect! Don't believe everything you see on T.V. and view in magazines. Don't try to live up to airbrushed images because they are a falsehood. I know this has helped me myself when I gain weight or simply loosen up from lack of activity, or notice a couple of new lines on my face. Only work to please yourself and never anybody else.
It is normal to want to like what you see in the mirror, but try to not judge yourself so harshly, which all women are prone to doing. Do BE confident. Confidence IS beautiful! People can spot it a mile away, as it shines through every pore. It draws people to you, no lie. So work on your confidence level and your self-esteem more so than all else. It's good to work towards your goals, but love yourself and know you are hot even with a few extra pounds, etc. during this journey. It will help you get further in it too, believe it or not. Confidence and determination and believing in yourself will help you to stick to your goals and be happier too while you are on your way to achieving them.
#2) NEVER, EVER starve yourself, but do make some changes with how you eat.
Starving yourself is not only unhealthy, but if you lose weight that way, it is bound to return. That is just fact. Being more aware of what you are eating and/or reducing portion sizes, both- even better, but do what you can, is a much better way to obtain your goals. Throwing in some better foods into your diet will make you healthier on the inside and looking better and more lean on the outside as well. So try and curb your desire for that cheesecake, though I do believe you can't deny yourself every indulgence in life, just make them fewer and further between, and lowering your portion sizes of your lunches and dinners, etc. definitely helps.
The stomach does shrink a bit with smaller portions of food, and this is OK to do, just not to an extreme. You do need an ample amount of food every day to keep your body, your machine, running smoothly. You want to feel satisfied after eating, but over-eating to the point of being over-full will not help you attain your goals. Eat until satisfied, and you will see that it takes less food to make you feel this way over time. Just be sure you are taking in enough food, not depriving yourself of important nutrients during your day. Going too far and skipping meals is not at all what I am referring to here. And you don't have to eat celery sticks and such, just tone down some of the carbs, eat smaller portions of them, and avoid over-snacking in between meals. Sometimes eating more than 3 more frequent, smaller meals helps a person to lose weight and to stay more food satisfied throughout the day.
#3) Chew gum instead of needless snacking.
When I get hungry in between meals I chew some sugarless gum. It is a practice that I have started not long ago, as I do weigh 10 lbs. more now than after I had my twins 6 years ago. Unfortunately, age and metabolism catches up with everybody, so while as you age things will get harder. It may not be as easy to build muscle, but it is definitely doable, and it may be harder to lose weight, but it is also doable. And I just find that chewing gum helps me to NOT want something to throw into my mouth whenever the mood suits me. I eat, of course, but it definitely does help out in between meals and leads to less snacking. Chewing gum is also said to reduce stress. Who knew? So chew on! (Lollipops can also help with the oral fixation, but it is easier to pull out some gum to chew, especially while out in public places.)
 #4) Stay more busy. It distracts the brain!
A bored brain is way more prone to going to the fridge, even when you aren't really hungry at all. This is one of the reasons we pack on more pounds during the winter months, coupled with less activity, which is a BAD combination. We tend to be home more during cooler months and the fridge starts looking REALLY good. So do your very best to resist those urges, only eat when you do feel truly hungry, and keep your mind occupied, even if it is in the house, which does make it harder. You can resist the fridge!
#5) Eat less sugar & salt
Sugar not only helps you to pack on pounds, but also accelerates the aging process. Who knew? I know I have cut out quite a bit of sugar in my own diet. I no longer take any in my tea, and now I am so used to that, that if I had a pinch of sugar it doesn't take much at all for me to taste it. It used to take like 6 teaspoons of sugar to satisfy me with coffee or tea. You do get used to doing things a different way, and it does benefit you, weight wise and even with your skin too! Some salt is important for our brains, however, too much salt dehydrates the body, which is unhealthy, and it also causes bloating, which is never attractive and appears as 'fat', even though we know it is not.
Finding healthier alternatives and spices for your foods to add flavor and eating less processed and fast foods helps here. Also, did you know that not only salt, but also SUGAR has been shown to cause high blood pressure too in new studies. So for heart health and for your body, limit the intake of both of these substances as much as you can.
#6) Move your body, as being sedentary is a big no-no!
(Advice on helping this in case you have an office job, or work on a PC at home like I do, etc.)
You need 'to move' around in life for overall health. There is no denying that. It is shown that people who are sedentary all day long, not even all day long, have shorter life spans and accumulate more fat than people that even just work on their feet, even partially. I think spending hours and hours per day on the computer to edit videos, make posts and answer Squeem questions has definitely played a role in the weight gain I have had since the twins were a few years old. If you must work sitting down all day, get up and move around every 20 minutes or so. This will help with circulation and help to not retain as much fat in your body cells. Just playing with your children helps you to burn calories while having fun. A little bit of activity that you take for granted, can go a long way. And you will be healthier too!
#7) Constipation must be rectified.
This photo comparison makes my own comparison look like a joke. It gets much worse, but I am an extreme case.
It's just an example.
I have SEVERE IBS with chronic constipation. I have had it my whole life, but it has only gotten worse with age. You have to deal with constipation, not just because of inward health but outward appearance as well. I can go 3-6 (no typo there) weeks without any bowl movement. I always wonder where the stuff goes, and I am taking action now, as it can't be healthy, but it also retains food and causes weight gain and bloating. Sometimes in the morning my belly is as flat as a board, and by night fall I am looking quite pregnant. It's all constipation.
Hopefully, if you have any of this you do not have it as bad as I do, but you need to put more fiber into your diet to help you maintain regular bowel movements. Laxatives are necessary if all else fails, however, make sure you take in plenty of fluids to avoid any possible dehydration. Fight to have one bowel movement at least every other day if not every day. For me that is a pipe dream, but is something I am desperately fighting to achieve, as I have a very sluggish digestive system. You won't need as desperate measures as I do, but take in lots of fluid, lots of fiber rich foods, and if all else fails do continue with it but add a daily dose of Metamucill. If that fails you can also try Colace, Senekot-s, Miralax, etc. Clean bowels are healthy bowels and also help you lose weight and keep your overall health and body on the up and up. Plus, it GREATLY reducing bloating issues too.
#8) Exercise, but you don't have to turn into Jane Fonda!
Who has the time, anyway?
We are all busy people. It is really hard to find time for exercise and just motivation overall, but it is doable. No matter who you are walking is always an easy way to burn calories and get more fit. Walk a little bit faster than you do right now to get more cardio. If you are working at home this is something that is definitely doable. Take your baby for a walk in the stroller, walk the dog, climb up and down the stairs, simply use stairs instead of elevators, get a stationary bike, elliptical or a treadmill that doesn't become a tree to hang your clothing on (been there, done that.) Actually use it. Put it in front of the TV and time passes much more quickly this way. You'll survive a lot longer if you have a program say DVR-ed that interests you and takes your mind off of the actual aspect of exercise. Use some light weights for toning when you can. Motivation is the absolute hardest part of exercise, but once you make it a routine, an actual habit, you can and will start reaping the rewards, and you will feel better mood wise as well. It takes 21 days to create a habit, so create it now so you will be beach ready real soon.
#9) NO LATE/ MIDNIGHT SNACKING
Everybody has been guilty of this, but eating late at night, anywhere near bedtime, packs on the pounds like no other time of the day because you are not getting any activity thereafter. You are simply going to bed, so no fat is being burned off. Can this habit, and you will definitely see a change in your body if you are a late night eater. I don't eat after 8 PM. That is my personal rule, as I am in bed between 9:30 and 10 PM most nights. Not eating for two hours prior to bedtime, and not at all in the middle of the night, is a great way to curb those unnecessary pounds.
#10) Re-shape your body in ways that ARE possible & simple. No plastic surgery needed.
(No matter your body shape right now!)
If you want to thin down your waistline, get more of an hourglass shape and flatten the abs, the secret is not in crunches. Those are actually more harmful than good, as they can cause an abdominal separation. Of course, many abdominal exercises are a great way to build muscle underneath the skin and tone things up, but some of us need a bit more help than that. Not everybody can obtain an hourglass figure through exercise alone AT ALL!
If you do wish to make your tummy look amazing without grueling exercise, or in conjunction with exercise, and get the shape you always dreamt of having, simply use a quality belly binder with diligence. That will completely reshape your mid-section and bring you confidence about your tummy area that you never dreamed you could have again, or have ever. And it works for EVERYBODY! You don't have to have had a baby and be postpartum to bind and benefit. That is why they make waist trainers and the visual results are apparent. You don't have to be slim or any particular body type. If you search you can see how women have reshaped their figures over the centuries. Belly binding has been done forever, but now no longer needs to be painful or even uncomfortable.
 No torture required!
(I know this has nothing to do with what I am discussing here, but it definitely looks painful.)
I always recommend the Squeem because it has changed my mid-section and gave me back the shape I never dreamt I'd have after bearing 5 children, including twins. Again, no need to have had kids at all, but if you have had them, you know that pregnancy can definitely widen the rib cage and in turn the waistline as well. It also can cause the abs to split which needs repair. The way to combat this issue is easy, and the results become totally permanent over time and wear. You don't have to do anything but wear it diligently for weeks or a few months depending on how much help you need, and your swimsuit will look amazing on you before you know it.
The Squeem worked so well for me, how could I not sing its praises? Also, it has the most popularity of any other binder you can buy, the best reviews and results, while keeping you comfortable. What more can I say? Check out my own story right here! Diastasis recti is a condition that often goes undiagnosed. A woman can have a pooch in front and not realize that it is being caused by an abdominal separation that CAN be healed without surgery using a belly binder, as I mentioned. The compression brings the muscles back together again. It's worked for me and thousands of people I have helped out in the past 6 years. Get 10% off the already lowest prices allowed by Squeem by using coupon code SUMMER (All caps) at Twinpossible's Closet. EVERYBODY can have that hourglass figure!
(Coupon code is for a limited time only.)
So, try these things, get ample rest but not TOO much of it, drink water, have regular bowel movements, consume fiber, don't remain a couch potato if you are one, move more, don't go to the fridge just 'because', lessen portions, be smarter about what you eat, curb over-snacking from boredom by chewing gum, remember that you are beautiful, along the way in this journey. FEEL IT, KNOW IT, re-shape that mid-section, and you will definitely look hot this summer and all year round!!
Fit times ahead for summer, my beautiful friends!!